No matter how big or small your project is, to get the best out of your footage it needs to be edited well. From the simplest corporate video to a 45-minute documentary, it's all about telling the story. An editor needs a firm grasp of the story that you want to tell, so it can be put together in the right way to obtain the best result.
Our editor makes sure everything's in the right order and paces your video so that your intended audience stays engaged in the story. In simple terms, good editing can make a video stand out from the crowd. Of course, we do need good footage to work with (we can't make a silk purse from a sow's ear!).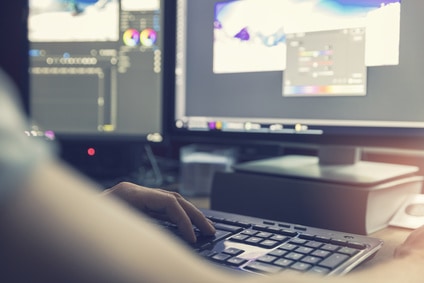 So if you have footage for a company promo, documentary, wedding or a short movie, and want it crafted into a finished video, then our editor will happily take on the project and help you to create the outcome you want.
Whether you are looking to produce a company video, educational content, case studies or customer testimonials, our video editing service will meet your needs at a price that fits your budget.
We can often fill any shortfall in footage by using library footage and edit it together to tell your story.
Occasionally the most cost-effective route for a business to produce video is to film it themselves and then pass the footage to us to edit and polish. This can be especially true for video testimonials. However, if you would like us to handle that, our video production team can help..
Piecing all together
Shooting a video on the camera is just part of the job, whereas editing and packaging of the video also play an important role in leaving a lasting impression on the viewer. We specialise in providing high-quality movie editing services to clients around the globe which will help them to leave a great impression on viewers.
Benefits of our service
We are committed to providing high-quality video editing
We provide customised pricing options for clients
We have access to cutting-edge tools to provide top-quality edited movies
Our editor is trained to work on the latest tools and technologies
We provide video editing services with a quick turnaround time
Video Editing Pricing
Basic Video Editing – £65 per hour
It is important that the video footages which make up your movie are edited well. Our editor can provide editing services such as sequencing footages, merging videos, removing unwanted content, standardising video formats, annotations and subtitling.
---
We understand how well-edited video can impact the viewers. By partnering with us you have a partner who will take the time to understand your requirements and provide the services accordingly.
If you have any kind of movie editing, short film editing, or documentary editing requirement, feel free to get in touch with us.